UNPLUG
INTUITION COACH
Van overmatig denken naar voelen,
de weg naar ware vrijheid.

Je voelt je gekweld door overmatig denken. Levensenergie ontbreekt je waardoor je:
gefrustreerd bent en mensen kwetst van wie je houdt
geen fut meer hebt voor je kinderen, familie en vrienden
niet langer geniet van de waardevolle momenten
je omgeving mijdt
je meer en meer afsluit van anderen
Maak terug contact met je innerlijke wijsheid en leef vanuit een gevoel van vertrouwen waardoor je:
keuzes maakt met zelfvertrouwen en anderen inspireert
steviger in je schoenen staat
barst van levensenergie, iets waar je vrienden, partner en familie ten volle van meegenieten
omgeving je kent als optimist die geniet van de kleine dingen
een positieve energie met je meedraagt, wat mensen aantrekt
een stevigere fundering hebt en externe gebeurtenissen minder vat op je hebben
minder afhankelijk bent van andermans meningen
1.Let's meet
In a safe environment, you are given the space to be who you are. No expectations, no judgement, no right or wrong. My mission here is to let you experience peace, safety and spaciousness in the first instance.
2.Setting your compass
We bring it all together in one tangible vision that will always
get you back on the life path provided for you. No matter how
lost you may be, this will become your guide through your personal journey.
3.Your intuition as a guide
Here we focus on Something we have lost. Through simple basic techniques, you get to work tuning in to yourself, the place where all the answers are waiting for you. During the session, I will guide you through this so you can work on this independently.




4.A more enjoyable life
Once you find your way back to your essence, your inner strength and wisdom become available: the basis for resilience and confidence. You will find that your sense of control increases. External events and opinions have less grip on you and compulsive thinking is replaced by inner peace.
Kom kennismaken!
*€20 voor een kennismakingsgesprek van +- 1uur
Voor loopbaancoaching: klik hier
Alexandra B. ​

Zo mind blowing en heftig, puur en echt. Als je tools nodig hebt of tips om je zoektocht verder te zetten, dan staat ze meteen klaar om je verder te helpen.

- Sarah Grobben

---
Na elke sessie coaching ga ik naar buiten met een licht gevoel, met veel nieuwe inzichten, soms ook erg veel nieuwe ideeën en ik heb elke keer ook weer heel veel goesting om terug te gaan. Ik ben dan altijd benieuwd naar wat ik weer over mezelf ga bijleren en welke tools ik aangereikt krijg om dingen te ontdekken en aan te pakken.
​ Lisa Jaenen

Before I decided to pursue coaching, my biggest fear was that I was going to have to change my whole life. On the other hand, I also had a fear that I would not find answers to my questions because it had also happened in the past that coaching was limited to words and no actions. The exercises further encouraged me to elaborate on my goals or plans. It is the first time that I have started turning my goals and plans into concrete actions.
Vorige
Volgende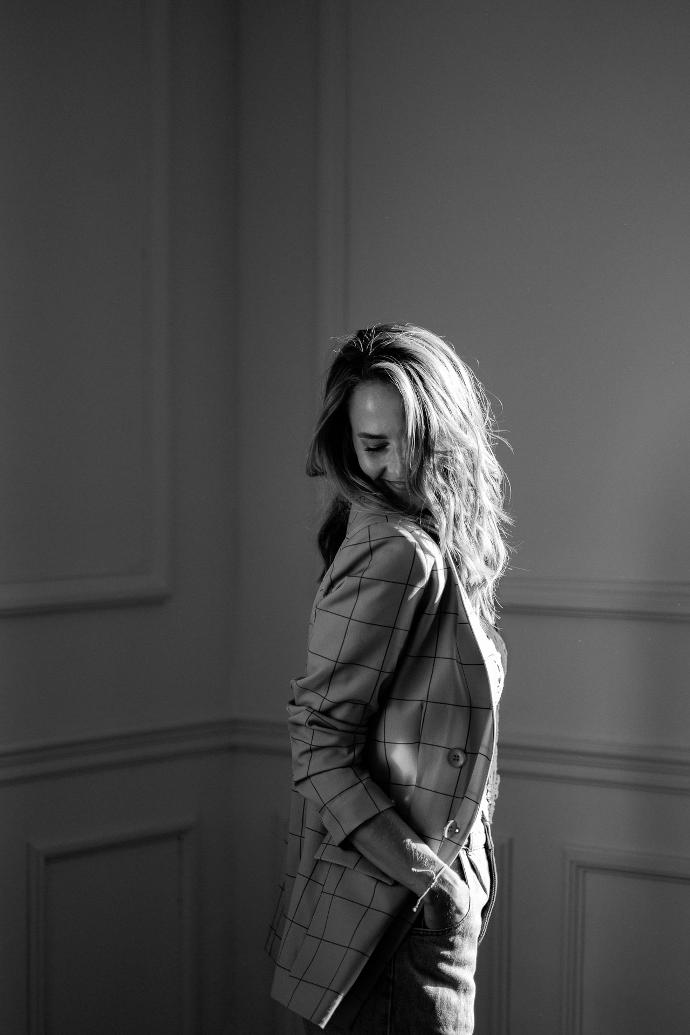 Time to discover, nurture and spread that inner spark within yourself.
Here I share free tools, exercises and personal stories.
In doing so, I hope to make some of your challenges lighter.
Jouw Dynamic Snippet wordt hier weergegeven ... Dit bericht wordt weergegeven omdat je niet zowel een filter als een sjabloon hebt opgegeven om te gebruiken.

About myself
---
Maybe you know me through my Instagram account or maybe you were referred. Either way, it's definitely nice to know who is behind U.nplug!

l am Elke Jordens, a conscious and slow-moving life enthusiast who strives for integrity and authenticity. Two values that are deeply ingrained and that I bring to my mission as a coach.

Within my practice, I focus mainly on ladies and gentlemen who are looking for a sense of security, connection, (self)confidence and self-worth. Side by side, we look for ways that suit you to increase that inner strength. In the jungle of life, I am at your side to face the unavoidable obstacles together.